I would have liked to give you all the news on hot springs in Southeast Asia but there is none! So I'll once more guide the reader to ithe more nteresting blog entries. And to some other issues.
One of these issues was the most recent posting on spa's. Interesting is that I defined a spa as
'

any place having a natural water source that is believed to possess special health-giving properties'.
One of the world's most authoritative voices of the spa industry, Intelligent Spas refers to spa as
'a business offering water-based treatments practiced by qualified personnel in a professional, relaxing and healing environment' This definition was developed to support the original meaning of spa being "healing through water".

Water-based treatments may include body wraps, body scrubs, baths, etc.'
End of definition. One aspect which I seemed to have omitted is the professionality whereas I concentrate soaking on in natural waters, preferably without somebody telling me what to do. Then again I suppose a spa might just be cleaner than a soak.

On the art and hot springs theme of a couple of months back, the soakersforum actually now has a thread on hot springs in movies which actually answers which hot spring was featured in the Easy Rider film. Concerning Easy Rider ,Taos the town near the mentioned hot spring, actually will celebrate 40 years after the film came out. There have been other films with hot springs featured but whether these are viewable or not is entirely different question. Have any Southeast Asian hot springs been in films?


But before I get into the specifics of each nations blog entries on hot springsthe folowing: a common phenomena becoming ever so popular in the spa industry are fish tanks where you can let the fish tickle your feet while at the same time letting them eat your dead skin cells.
Life's Happenings
describes this in some detail how it not only is healthy:
'After a spa session with the 'fish doctors', they eventually need to see a real medical doctor as their legs had turned reddish, itchy and blotchy'.
He also provides a link to no less than the
Wall Street Journal
which has a story on banning these fish spas (in 14 states they've been outlawed! Poor fish).
More weird 'spa business':
Onsen hot spring powder
?
'this powder changes hot water at your home into Japanese onsen hot spring. instant onsen at home!'
Your own foul smelling hot 'spring' @ home! Well, it's forest scent.ed Is this odd or not?
So now on to the blogs:
Malaysia
Revealed the hot spring of Changkat Jering near Taiping, Perak.

Zest-zipper:

'One might ask, "Is it worthwhile doing so?"

For me I did not notice any significant changes in me after dipping in the hot spring for a couple of times. I was told that frequent submersion in the hot water would render me impotent to father a child. How far this is true is yet to be proven, either by me or by the scientists.




As for my wife, in her own testimony, she claimed that soaking in the hot spring was very effective in reducing her weight from 72 kilograms to 65 kilograms over a number of weeks. Reduction in her body weight has lessened the burden on her knees considerably. The other benefit that she has reaped was a sound sleep in the evening after a dip in the hot-spring water during the day.
This is what Poring spring looks like. Cosy!?
Thailand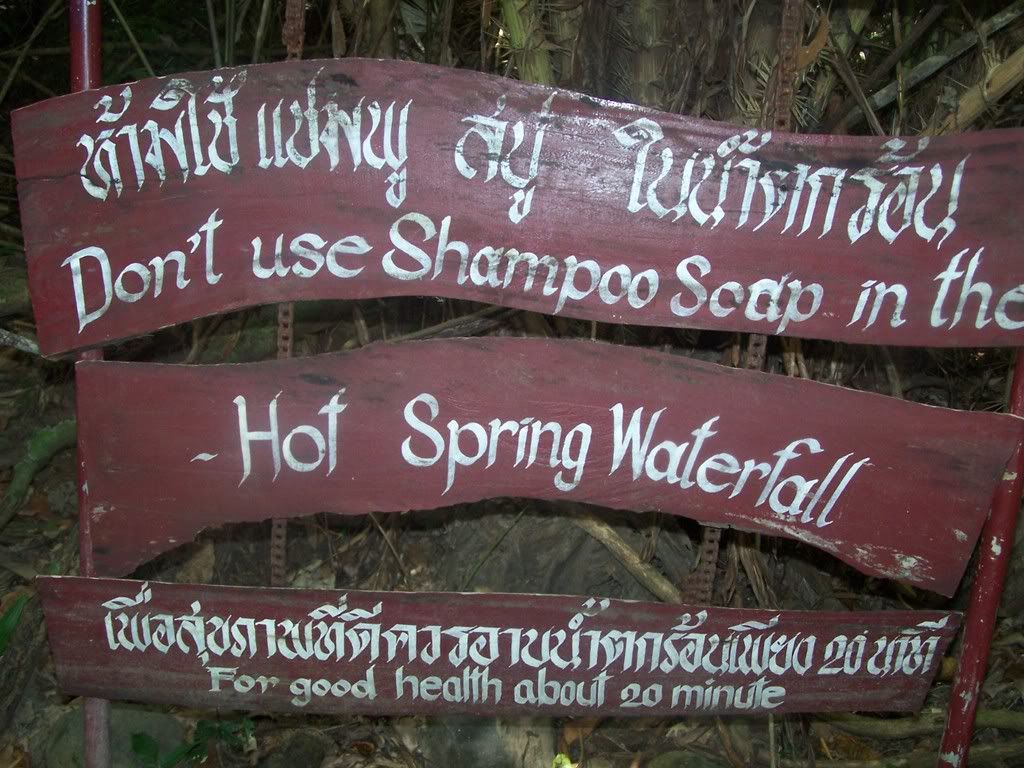 Vavijo has a couple of
photo's
on photobucket. Don't use shampoo!
Obviously in Thailand, but where? Krabi?
Arrh, there too many blog posts coming out. Next month I'm only going to just highlight a few special ones!