Yes, I'll admit.
This website as well as others I maintain are directly stimulating soaking in our earth's natural and naturally heated waters: there's little on earth that beats having an impromptu warm bath in natural water in the midst of nature.
But times being as they are, the few yet to be remodeled and commercialised hot springs are increasingly being threatened by the ever increasing swaths of tourists, who are seeking their fair share of bliss.
At the same time we see that managing what's left of the planet's bounty is becoming more and more of a challenge, one we might be losing.
Sadly, with more use, comes more abuse: contamination of the pure waters, filth surrounding the baths, erosion of the natural environment, non-social soaking behaviour, etc., etc.
So it comes as no surprise that in the past few months, in various countries around the globe, an assortment of users / governing organsations, owners and managers have seen fit to seek to change the way we might be able to enjoy soaking.

Fight
Exhibit A is the hot spring named Skinnydipper located in the state of Idaho, U.S.A.
The abuse of the site has the managing organisation (
Bureau of Land Management) putting forward a proposal so as to eliminate soaking for once and always. KVTB (May 5):
'... dealing with litter, feces, drug use and break-ins in the area'.
Luckily at the last hour, users have organised themselves and hope to reach agreement enabling future use. Hopefully.
Idahostatesman (May 12):
'Nothing's official yet. Tate Fischer, who manages the BLM office for most of southern Idaho, said he's meeting with the agency's upper-level management this week to discuss a compromise between users of the popular hot springs and the federal government'.
More info on the user cause here, a facebook site currently notching up nearly 9000 likes. Their latest message:
'To give everyone an update on where we are at right now:
The Department of Interior denied our petition for stay. What this means is that the closure order is in place and going forward. The BLM will need to follow their process for closure and we hope that before they take any action, our appeal will be granted.
So right now, cross your fingers and toes. We are still in this fight!'
we hiked to a hot spring along the side of a mountain. the folk who maintain this hot spring just so happened to be having a sunday bbq. naked. so. that happened. when in idaho?
Beauty
In a recent European Natural Soaking Society blog post there's more on the problems of Hrunalaug hot spring, one of Iceland's most iconic hot springs.
The limited soaking site is unable to cope with the influx of the Iceland tourism boom and the owner has headaches enough without these.
'The Hrunalaug hot spring has undergone so much damage from the sheer numbers of visitors it has received that the owners have considered bulldozing it over.

Helena Ei­ríks­dótt­ir, the daughter of the owner of the famed Hrunalaug hot spring, told MBL that her family simply cannot keep up with the number of visitors the spring receives. The spring is not just experiencing regular wear and tear, either; vandalism has also started to be a problem. People have also started camping on the site, despite numerous signs asking them not to'.
The Hrunalaug pool lies in the outskirts of the village Flúðir (Fludir), just over an hour's drive from Reykjavík. The pool combines beautiful nature with an ancient structure. The pool is located in a beautiful green gully, where the natural geothermal water collects into the pool. The pool is actually split into two pools and the water streams out from the first pool in a little trickle of a river through an old turf-hut. There it collects again into another deeper but smaller pool at the front end of the hut. The hut is old and weary but can be used as changing facilities for guests who visit the pool. The hut has concrete walls and concrete floors, but the roof is made from corrugated iron and turf. Inside the cottage you will find a bench were you can put your clothes. The facility is primitive and raw but very interesting.
As users are mostly tourists there's little scope for a user group being established to assist in management. With tourists outnumbering locals by far, I can't see locals taking the initiative and for tourist companies to practically assist there's too much scope for free riding from non-participation.
Thus the future use for soakers lies in the hands of the owners and their willingness to put up with antics and numbers.
Icelandic law decrees unfettered access to nature and natural resources, destruction of the source is the only way owners can restrict access.
Dilemma.
Elsewhere from the same blog we saw both an interview as well as a soaking review of terme Il Bullicame near the town of Viterbo, Lazio (Italy).
Here users are facing a doubled edged sword.
On the one hand how to manage use, while at the same time lamenting the commercial exploitation of the source itself as waters are syphoned off to a neighbouring establishment.
It's a much wider problem as legislation and governance seem to contradict itself resulting in a free-for-all; thus meaning commercial strength is the winner.
The fight itself is already protracted and it's yet to see what, if anything can emerge. Other than a Pyhrric victory ...
A call to reclaim the hot spring at a recent protest

Cover up
Then closer to Southeast Asia, we were told the story of the
Fudo no Yu onsen (Japan) where due to remoteness (and thus lax governance) abuse of the hot spring could take place. Here plays social change a large part as well.
With an entry fee of 200 yen that was paid on an honor system, Fudo no Yu generally operated without managerial supervision.
Other reports concerned theft.
Very Asian, the closing of the onsen was meant to avoid bad publicity ...
Safe to say the onsen has since reopened (see excerpt below) however with increased management it also saw the need to force a change in age old bathing habits; is this the future face of soaking in Japan?
'On August 1, the mixed-bathing Fudo no Yu onsen, located in Nasushiobara City, will begin accepting bathers during the day on weekends and holidays.

came to an agreement under two stipulations: A manager will be on hand to monitor the bathers, who will be required to cover their bodies with towels'.
Sacrilege? It beats me how forcing bathers to cover up will lead to positive changes. Certainly only the posting of a manager would be sufficient ...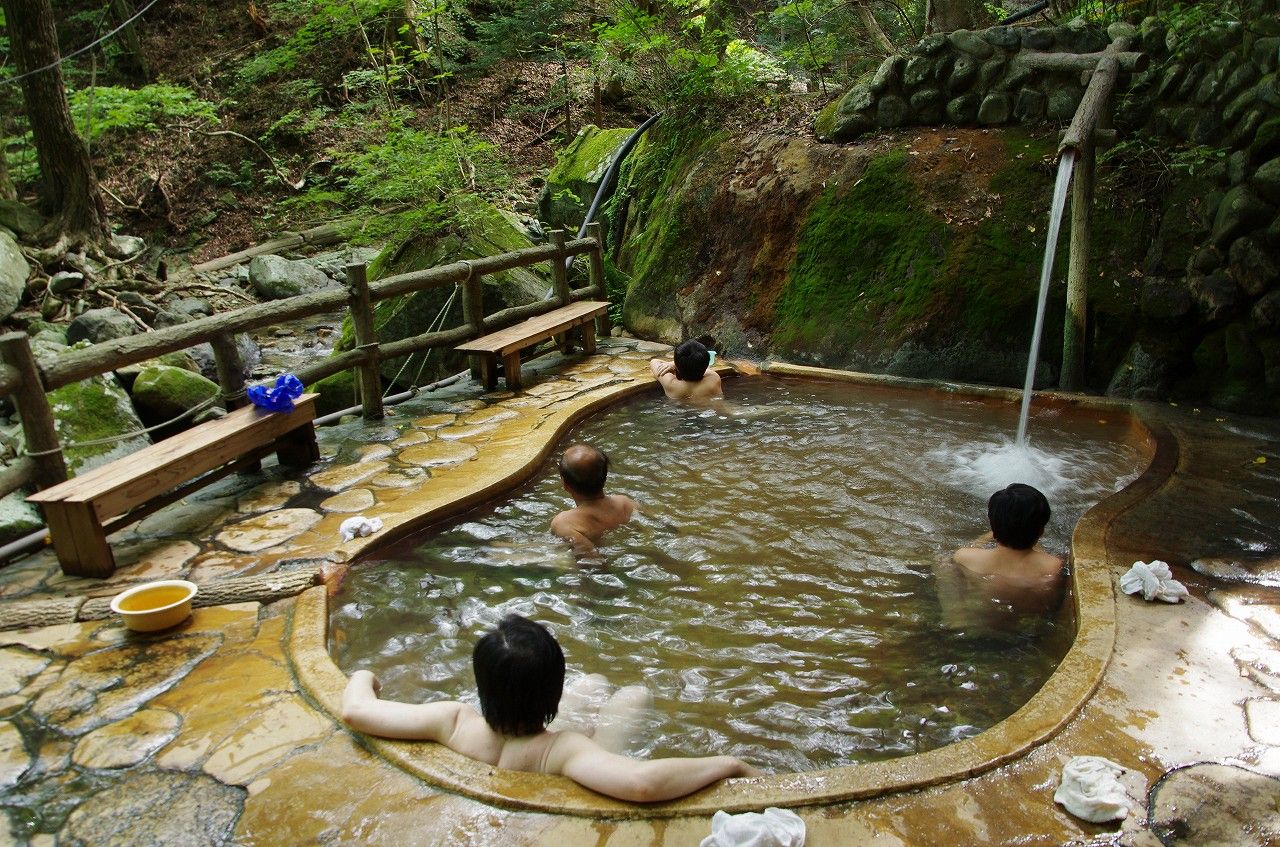 Vocal
What's required is a need to know how managing naturally natural resources can be successful. Without caving into commercial interests. And with public interest at heart.
Are there any examples of such?
It can't be overstated that public interests require public (read government) commitment.
However, nowadays public entities worldwide are chronically underfunded to such an extent that they are increasingly getting caught in upholding the interests of the establishment.
And if the public's interest require funding, the public's interest will stand little chance.
So it's up to us to bring about change.
Each soak requires tailor made solutions, there are no blueprints.
But what we share is a common, is an interest to safeguard the few unique publicly accessible natural soaking sites.
At the very least our voices need to be heard!